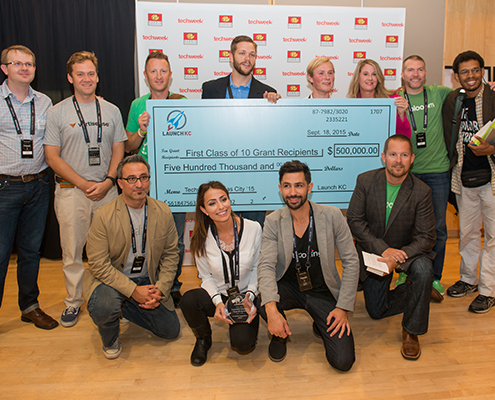 KANSAS CITY, MO – 6:30 p.m. Monday, Aug. 22, 2016 – LaunchKC announced today its selection of 20 tech entrepreneurs as finalists for the $500K Kansas City-based grants competition on Sept. 16 at Union Station.
The finalists include 11 from the bi-state metropolitan area, seven from other U.S. states, and two international applicants from Austria and Portugal. They will be in KC in just three weeks to compete for one of 10 grand prizes, including a $50,000 grant; 12 months of free office space in the heart of Downtown; and professional mentoring support – that will be awarded to the 10 top at Techweek Kansas City, Sept. 12-18.
The 20 finalists were selected from a pool of more than 400 contenders, who applied to LaunchKC during a 90-day application window that closed in early July.
"This is an outstanding group of finalists. We were looking for the best and brightest applicants for the LaunchKC competition, and we were not disappointed," said Drew Solomon, Vice President of Business and Job Development at the Economic Development Corporation (EDC) of Kansas City, Missouri and leader of the grants competition. "They exceeded our already high expectations."
LaunchKC is a global grants competition designed to attract tech entrepreneurs to build their new and emerging tech businesses in Downtown Kansas City. It is an initiative of the Downtown Council (DTC) of Kansas City, Missouri, working in collaboration with the EDC. This is the second year for the LaunchKC grants competition.
This announcement marks the completion of weeks of application reviews and scoring by a panel of more than 25 local business and financial leaders. They volunteered their time to thoughtfully narrow the field from more than 400 applicants from 19 states and seven nations to the 20 finalists announced today.
"This was a rewarding, but strenuous, process for the selection committee," Solomon said. "We are grateful for the time and careful deliberation that they gave to this important job."
The 20 finalists (listed alphabetically, by company name, current location and business sector) for the LaunchKC grants competition include:
Aces Health (Bentonville, Arkansas) – Health Tech
Backstitch – (Detroit, Michigan/Kansas City, Missouri) – Cloud Services
Big Bang – (Kansas City, MO) – Cloud Services
BLITAB – (Austria) – Education Tech
ConsultUS (Prairie Village, Kansas) – Ag Tech
EnduraLock – (Overland Park, KS) – Other
Eyes on Freight – (Kansas City, MO) – Logistics
Glober – (San Francisco, California) – Mobile Tech
FEWDM – (Kansas City, MO) – Health Tech
Forest Devices – Alpha Stroke (Pittsburgh, Pennsylvania) – Health Tech
Herd Scout – (Overland Park, KS) – Ag Tech
iShare Medical Records – (Kansas City, MO) – Health Tech
Magnomics – (Portugal) – Ag Tech
MailControl – (Chicago, Illinois) – Cloud Services
Mobility Designed – (Prairie Village, KS) – Other
Mycroft AI – (Lawrence, KS/Sprint Accelerator) – Artificial Intelligence
NeuroCognetix – (Columbus, Ohio) – Health Tech
Ombitron – (Seattle, Washington) – Internet of Things
PerfectCube – (Lenexa, KS) – Data Analytics
Super Dispatch – (Kansas City, KS) – Mobile Tech
The 20 finalists advance to Techweek Kansas City – home to the final round of judging and the selection of the eventual 10 grant recipients – on Sept. 16 at Union Station.
"LaunchKC will take center stage at the Techweek Kansas City conference on Friday, Sept. 16," said Mike Hurd, Marketing Officer for the Downtown Council and LaunchKC. "Each of the finalists will get to make their sales pitches to the Techweek audience, followed by questions from the LaunchKC judges, that morning.
"Upon completion of the pitches by each finalist, we will reconvene mid-afternoon on Sept. 16th to learn the judges' selections for the 10 grant recipients. It will mark the climax of the Techweek conference. And, we can't wait!"
Visionaries
Missouri Technology Corporation; City of Kansas City, Missouri; William T. Kemper Foundation; Kansas City Power and Light District; UMB Bank; Techweek
Founders
Burns & McDonnell; DSI; Google Fiber; Husch Blackwell; Kansas City Power & Light; Lead Bank
Champions
J.E. Dunn Construction; Lathrop & Gage; Polsinelli
Official Hotel of LaunchKC
Kansas City Marriott Downtown, 200 W. 12th St.
https://www.launchkc.org/wp-content/uploads/2014/09/LaunchKCGrantRecipients.jpg
400
495
Mike Hurd
http://www.launchkc.org/wp-content/uploads/2017/02/LAUNCH_KC_Horiz_Color_Alt.png
Mike Hurd
2016-08-22 18:41:29
2017-02-25 21:35:32
LaunchKC selects 20 startups for grants competition finals