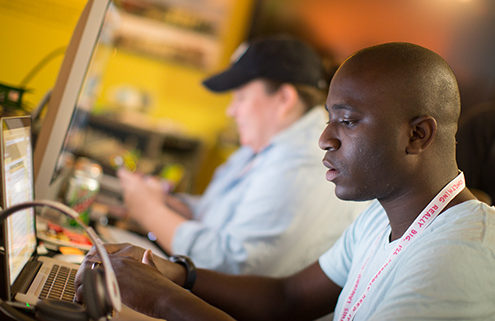 The clock is ticking for entrepreneurs to apply for the 2018 LaunchKC grants competition and a possible share of $500,000 in non-dilutive grants.
The fourth annual grant competition for tech startups began its call for applications on April 2 and is due to close the window at midnight on July 11 – just about four weeks away. To learn more, visit LaunchKC.org.
Off to a Great Start
"We are off to a great start with applications this year," said Mike Hurd, marketing officer for the Downtown Council, parent organization for LaunchKC. "More than 400 applications are currently in process, which is ahead of the pace we've seen in the last three years."
And, with a month left in the application period, Hurd said LaunchKC is launching a new application outreach campaign today via social media.
"We have created a series of video testimonials with past LaunchKC grant recipients, who encourage entrepreneurs to take a chance with the LaunchKC application," Hurd said. "And, with $500,000 in grants at stake, the application process is a great investment in a business' future."
The video series features Heather Spalding, CEO of Cambrian, the 2017 grand prize winner, along with Chris Costello of Blooom, Erika Klotz of Pop Bookings, Jeff Rohr of SquareOffs and Tim Sylvester of Integrated Roadways.
LaunchKC is a platform for attracting tech entrepreneurs and their early stage businesses to establish and grow their new and emerging enterprises in Downtown Kansas City. In its first three competitions, LaunchKC awarded $1.5 million in grants to 29 entrepreneurs. More than 1,100 startup businesses from around the world applied for grants in those first three years.
Looking for the Best and the Brightest
"We are searching for the best and brightest to apply and compete for $500,000 in grants," Hurd said. "Our goal is to attract them to Downtown Kansas City. We want to help these entrepreneurs make their business dreams come true in Kansas City."
LaunchKC is sponsored by the Missouri Technology Corporation, the City of Kansas City, Missouri, The Cordish Companies, Husch Blackwell, Kansas City Power & Light, the William T. Kemper Foundation, Lead Bank, the Missouri Department of Economic Development, Polsinelli, Spring Venture Group, UMB Bank, American Century Investment, the J.E. Dunn Family Foundation, Google Fiber, Lathrop Gage and RubinBrown.
LaunchKC is an initiative of the Downtown Council of Kansas City, Missouri, working in collaboration with the Economic Development Corporation of Kansas City, Missouri.
https://www.launchkc.org/wp-content/uploads/2017/02/BenefitsPhoto.jpg
400
495
Mike Hurd
https://www.launchkc.org/wp-content/uploads/2019/05/LAUNCH_KC_Horiz_Color_Alt4.png
Mike Hurd
2018-06-14 11:09:19
2018-06-25 13:40:03
LaunchKC reaches out for the best, brightest applicants